The FDA has declared that bisphenol A (BPA) is safe at the current levels occurring in foods, but a number of myths about BPA continue to cause concern and confusion in the public. Click to read some of the common myths about BPA and the realities we know from extensive scientific study.
Health Effects of BPA
BPA Regulation & Labeling
Exposure to BPA
BPA in the Body
Our bodies are fully capable of processing BPA. In fact, research on human volunteers shows that BPA is eliminated from the body within 24 hours of ingestion, even when exposure levels are much higher than average.
When BPA is ingested, most of it is absorbed through the intestinal wall and converted to a substance with no known biological activity, meaning the new substance does not cause any interactions within our bodies. Any remaining BPA that was not converted through the intestines gets converted to that same biologically inactive compound in the liver. The inactive compound is quickly eliminated from the body through urine. Humans of all ages, even premature infants, are able to process BPA in this way.
Visit our
Key Studies page
to see the science and learn more about how our bodies metabolize BPA.
Studies by researchers from the
U.S. Food and Drug Administration (FDA),
Johns Hopkins
,
Harvard and the Centers for Disease Control and Prevention (CDC)
have demonstrated that even premature and days-old infants have ample capacity and capability to process and eliminate BPA from their bodies.
Large-scale biomonitoring studies in the U.S. and Canada show that typical consumer exposure to BPA is far below safe limits set by government agencies—these studies include children, adults, and pregnant women. In fact, a 2014 Health Canada study found that exposure to BPA in pregnant women is more than a thousand times lower than the safe intake level established by government agencies.
Visit our
Key Studies page
to see the science and learn more about how our bodies metabolize BPA.
BPA is rapidly eliminated from the body, preventing any accumulation.
The human body efficiently processes, or metabolizes, BPA and quickly eliminates it from the body. Several studies on human volunteers have shown that the very small amount of BPA that may be ingested during normal daily activities is converted to a biologically inactive substance, which is eliminated from the human body within 24 hours. This indicates that BPA is unlikely to cause health effects, in particular at the levels of BPA to which consumers may be exposed, which has been confirmed in large-scale toxicity studies.
In contrast, similar studies on rodents, which are commonly used for toxicity studies, have demonstrated that rodents, in particular neonates, are less efficient at eliminating BPA from the body. This indicates that toxicity studies in rodents are likely to overstate the potential for health effects in humans.
A
2012 study
in mice by FDA specifically examined the potential for BPA to accumulate in adipose tissue (fat). Consistent with other similar studies, BPA was quickly eliminated from the body and results confirmed that BPA is not retained in fat.
Visit our
Key Studies page
to see the science and learn more about how our bodies metabolize BPA.
KEY GOVERNMENT REVIEWS OF BPA SAFETY
Video: Overview of the CLARITY Study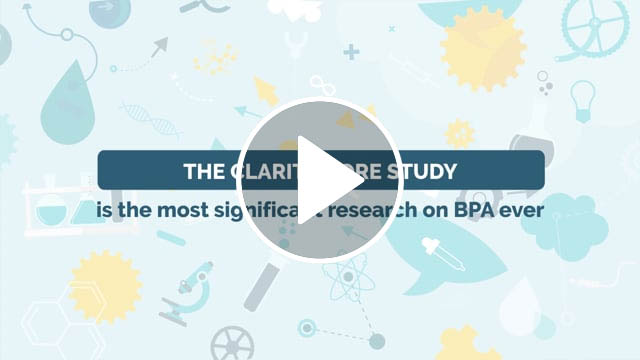 The CLARITY program is the most significant research on BPA ever and will provide a clear understanding of the potential for BPA to cause health effects.
Watch More