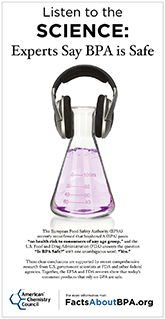 The European Food Safety Authority recently reconfirmed that bisphenol A (BPA) poses "no health risk to consumers of any age group," and the U.S. Food and Drug Administration answers the question "Is BPA Safe?" with one unambiguous word: "Yes."
These clear conclusions are supported by recent comprehensive research from U.S. government scientists at FDA and other federal agencies. Together, the EFSA and FDA reviews show that today's consumer products that rely on BPA are safe.
EFSA and FDA aren't the only scientific bodies who have listened to the science on BPA. Germany's Federal Institute for Risk Assessment (BfR) has endorsed the European Food Safety Authority's (EFSA) assessment of BPA safety, stating that there is "No health risk for consumers from Bisphenol A exposure."
Learn more about BfR's safety evaluation of BPA here or visit American Chemistry Council's Chemistry Matters blog. More information on assessments of BPA safety conducted by the U.S. Food and Drug Administration and the European Food Safety Authority are provided below.
U.S. Food and Drug Administration (FDA)
In the last several years, federal government scientists have been conducting in-depth studies to answer key questions and clarify uncertainties about the safety of BPA. To date, more than 20 of these studies have been published in the peer-reviewed scientific literature.
Taken together, the results of these studies provide strong support for the safety of BPA. Based on these results, along with results from other studies, the U.S. Food and Drug Administration (FDA) recently answered the question "Is BPA safe?" with a clear answer – "Yes."
Learn more:
Consumer Exposure to BPA is Extremely Low.

Large-scale biomonitoring studies in the U.S. and Canada show that typical consumer exposure to BPA is far below safe limits set by government agencies. These studies included children, adults, and pregnant women.

BPA is Rapidly Eliminated from the Body.

Numerous studies on laboratory animals show that BPA is efficiently converted after exposure to an inactive form, which is then rapidly eliminated from the body. These findings have been confirmed in clinical studies involving human volunteers exposed to BPA at levels much higher than typical consumer exposures.

No Risk of Health Effects at Typical Consumer Exposure Levels.

A large-scale subchronic toxicity study in laboratory animals found no reproductive or developmental health effects at doses even remotely close to consumer exposure levels. Other studies found no developmental neurobehavioral effects at similar low doses. These results are consistent with the way that BPA is processed in the body, which make it very unlikely that BPA could cause health effects at typical consumer exposure levels.
European Food Safety Authority (EFSA)
On January 21, 2015, the European Food Safety Authority (EFSA) released its final report on BPA safety titled "Scientific opinion on the risks to public health related to the presence of bisphenol A (BPA) in foodstuffs." The report was prepared by EFSA's expert panel on Food Contact Materials, Enzymes, Flavourings and Processing Aids.
Based on a comprehensive re-evaluation of BPA exposure and toxicity, EFSA's scientific experts concluded in the final report that 'BPA poses no health risk to consumers of any age group (including unborn children, infants and adolescents) at current exposure levels.
Learn more:
Going beyond previous assessments, EFSA evaluated exposure to BPA not only from food, but also from a range of other potential sources. Considering all exposure sources together, EFSA concluded: 'BPA poses no health risk to consumers because current exposure to the chemical is too low to cause harm.' EFSA further explained that to be as open and transparent as possible, it thoroughly consulted and engaged with national authorities and stakeholders during this risk assessment to ensure that the widest possible range of scientific views and information were considered.
The safe exposure limit for BPA, known as a Tolerable Daily Intake (TDI), was conservatively set to include uncertainties about potential health effects of BPA. It is anticipated that EFSA will revisit the TDI to incorporate results from ongoing research being conducted by the U.S. National Toxicology Program and the FDA.
Notably, to address a controversial claim that BPA can cause health effects at very low doses, EFSA's experts established scientific criteria to evaluate studies that reported unexpected responses at low doses. Based on these criteria, the experts concluded that 'the available data do not provide evidence that BPA results in non-monotonic dose-response relationships.'